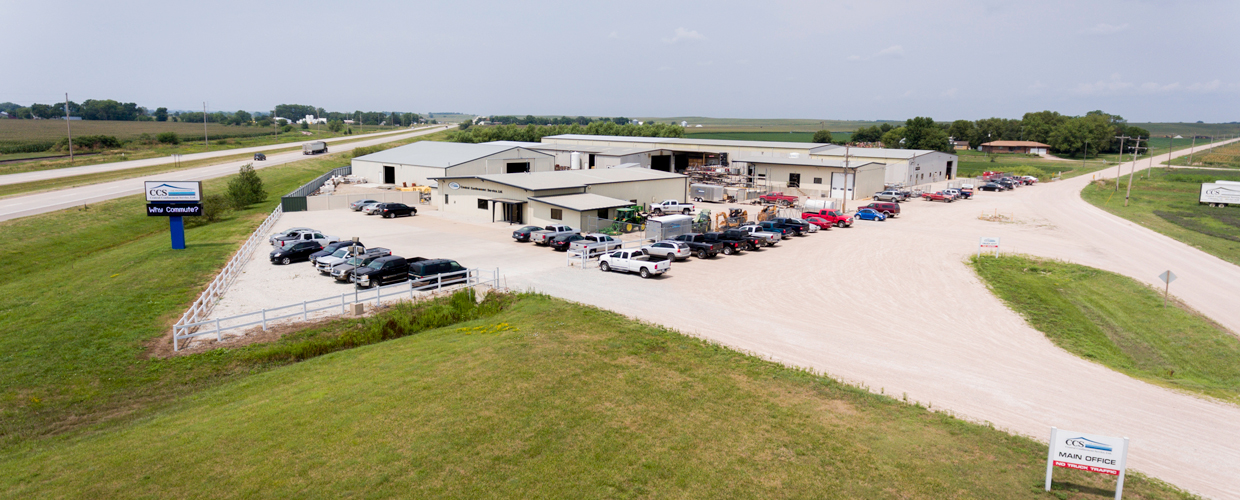 With more than 35 years of experience in quality construction and custom-built equipment, Central Confinement Service carries the reputation as the highest quality builder of turn-key swine, dairy, beef, poultry, and other ag-related facilities in the U.S.
We pride ourselves in offering top-notch consulting from start to finish and continued service after the job is done.
Our ability to handle every phase of a building project in-house makes us unique in the industry.
Though success has led to significant growth, our goal remains the same as it was on our first day of operation:  Not to be the largest, but the best designer, builder, and manufacturer in the industries we serve.
At CCS, our livestock facilities and equipment are custom-adapted to meet each producer's individual production and financial needs.
From design through construction, we ensure that three key requirements for success are met. Our buildings are designed to:
Maximize animal comfort and productivity.
Provide a safe, comfortable, and efficient environment for workers.
Be exceptionally durable and easy to maintain.
These three requirements serve as the foundation for everything we do, allowing us to provide the most effective design, equipment manufacturing, and construction service in the industry.
Design Services
Our expert design team and years of experience in animal agricultural construction allow us to design highly productive, efficient and low-maintenance facilities.
We offer both custom and turnkey designs, including dairy barns, cattle barns, hog barns, and poultry barns.
Our capabilities include commodity barns, hoop buildings, and monoslope facilities—virtually any building option you can think of.
Construction
Our experienced construction personnel ensures that your finished building will be one of the best-built facilities available today.
At CCS we are dedicated to perfection. Our three key requirements for success lead to highly profitable and productive systems.
Equipment and Job Shop Manufacturing
We have both stainless steel and mild steel manufacturing facilities, enabling us to create custom equipment and parts that precisely fit your design and needs.
CCS incorporates only the highest quality materials in all manufactured products.
Our job shop, Mid-Plains Industries, continually works to improve its processes and incorporate state-of-the-art manufacturing equipment and techniques.
No matter the species, Central Confinement Service can handle it all. Let our professionals work with you and your team to develop a system that will maximize your investment and multiply your returns.
To explore how our services can turn your concept into a reality, just give us a call at 800-443-8305 or fill out our contact page.
Our Beginnings
Central Confinement Service (CCS), Ltd. was founded in Columbus, Nebraska in 1982, by Mark Gearhart.  The company had humble beginnings with sales taking place out of the basement of the Gearhart home and manufacturing being accomplished in a small garage. The original investment in the company was $3,000.00, and the initial goal of the company was simple, "to offer our customers the best-built livestock confinement buildings available in the Midwest."
The company grew rapidly on the reputation of being the highest quality builder in the confinement industry. In 1983, the office portion of our current operation was built on a 6-acre tract of land northwest of Columbus, Nebraska. Today, after numerous expansions CCS operates from this location that serves as office, manufacturing, and warehouse.
Growth continued each year, and CCS added new divisions of manufacturing, including the production of stainless steel components for facilities. CCS has diversified into stainless products and design, for the packing, food processing, and numerous other industries.
In 1998, CCS began to research the dairy industry. After 2 years of research and design, CCS entered the dairy design-built construction business with a contract in Wendell, ID for a 6000 cow facility and has built many custom dairy projects to date.
In 1999, overall sales at CCS placed us as one of the top companies in the U.S. that specialize in turn-key animal housing facilities.
In 2010, CCS entered the beef housing arena and has quickly become well respected in the design and construction of beef housing.
CCS continues to carry the reputation as the highest quality builder of animal agricultural facilities in the U.S. and looks forward to growth in both the U.S. and world markets, as demand for professional companies in the animal agricultural industry continues to grow into the 21st century.
Our goal remains simple: not to be the largest, but simply the best designer, builder, and manufacturer to the industries we serve. Understanding the importance of high-quality design, construction, and equipment makes CCS unique.