Diversify Your Operation
Are you frustrated with the commodity markets? Having all of your eggs in one basket can be scary and not the best business model in these uncertain times. You just invested a lot of money in a row crop and now its futures price is depressing at best. You're frustrated… And that's understandable.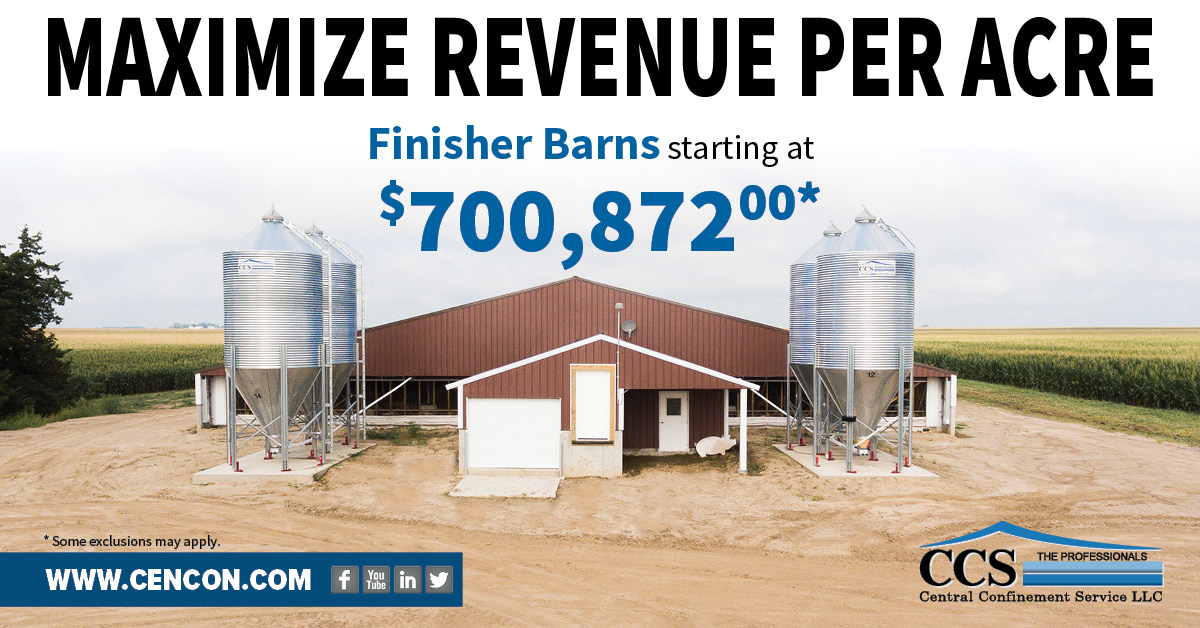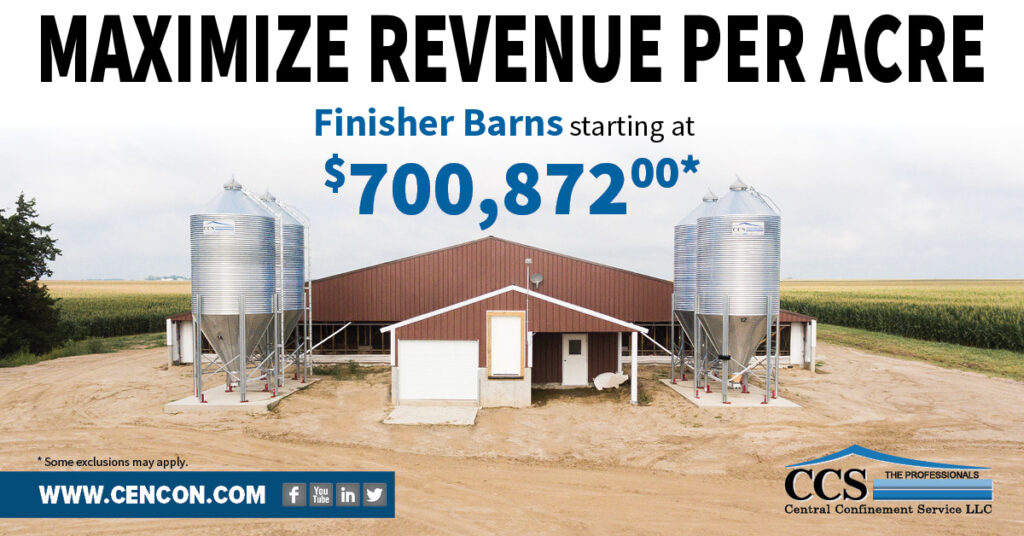 Have you thought about diversifying your operation? Diversification can be a great way to minimize risk AND maximize your revenue per acre.
Here's How You Can Maximize Revenue Per Acre with CCS:
Call Central Confinement Service (402)563-6041 or fill out the contact form below
Ask about the finisher barn for $700,872
We can help find an integrator in your state (if you don't have one already)
We are your guide and general contractor through the whole process – from start to finish
By diversifying your farming operation, you can attempt to smooth out some of the uncertainties in the Ag market. Diversifying your operation allows you to build a business plan that will help your cash flow over a period of time while adding to your asset base which helps your balance sheet. And that is what the lenders are looking for as they decide who to do business with.
Some ways you can diversify your farm are:
Add a livestock housing system
Plant different or multiple crops
Sell the natural resources on your land
Sell directly to consumers
In this article, we will focus on the benefits of adding animal husbandry to your operation. By adding animal husbandry, you can:
Create opportunities for the next generation so they can stay on the farm
Utilize the manure nutrients to replace commercial fertilizer hence save money!
Maximize Your Revenue Per Acre by utilizing the manure, creating larger yields, and reduce your operating costs by not having to buy as much fertilizer.
Maximize Revenue Per Acre
For example, a hog finisher barn loan can be paid off over 12 years. The great thing is by year 4 or 5 you have free cash flow. History has shown these buildings hold their value over the long term with normal maintenance.
Property taxes are high and the cost of each acre in farming is substantial. A 2400 head hog barn sits on just over 2 acres. The potential revenue for each head varies, but it is about $44 per head in a finishing barn for new barn owners. If you do two rounds of hogs annually, that comes out to $211,200.
Some companies prefer to keep payment structures confidential, but Cactus is up-front with its contract. Growers with new barns are paid $44 per pig space per year, on a 12-year contract. "It's a guaranteed monthly payment if the barn is full or not, with no production incentives," says Leman. "It's a flat-rate contract with no production bonuses or discounts."

From Successful Farming
Create Opportunity for Next Generation
Does your son or daughter want to return to the farm? Is there enough revenue for them to return to the farm? Many people ask themselves this question and wonder how they can make it work… Adding a livestock housing system can be a great opportunity for the next generation to come back to the farm. Constructing a swine finishing facility is one of the lower risk loans in agriculture today. Financing options are available.
Typically, a 2500 head finishing barn takes 3 hours per day. This leaves adequate time for other work to be completed on the operation. On top of this, when a finishing barn is paid off (typically in 12-15 years) it will generate enough income to support a salary. History has shown these buildings hold their value over the long-term. By investing in this now you are planning for generations ahead.
Utilize Livestock Manure for Fertilizer
Another advantage is that you can utilize the manure from the hog barn to fertilize your field. Finishing barns are known for their high-quality nutrient manure that farmers can use to fertilize fields and save money by not purchasing commercial fertilizer. The 2020 Purdue Crop Cost and Return Guide have fertilizer costs for corn production for average-productivity soils in continuous corn at $127 per acre, rotation corn at $116/acre, rotation soybeans $47/acre, wheat $74/acre and double-crop beans at $35/acre. Those costs can be eliminated by using manure from a source that is generating revenue. The savings on this alone could be around $100,000 or more per year.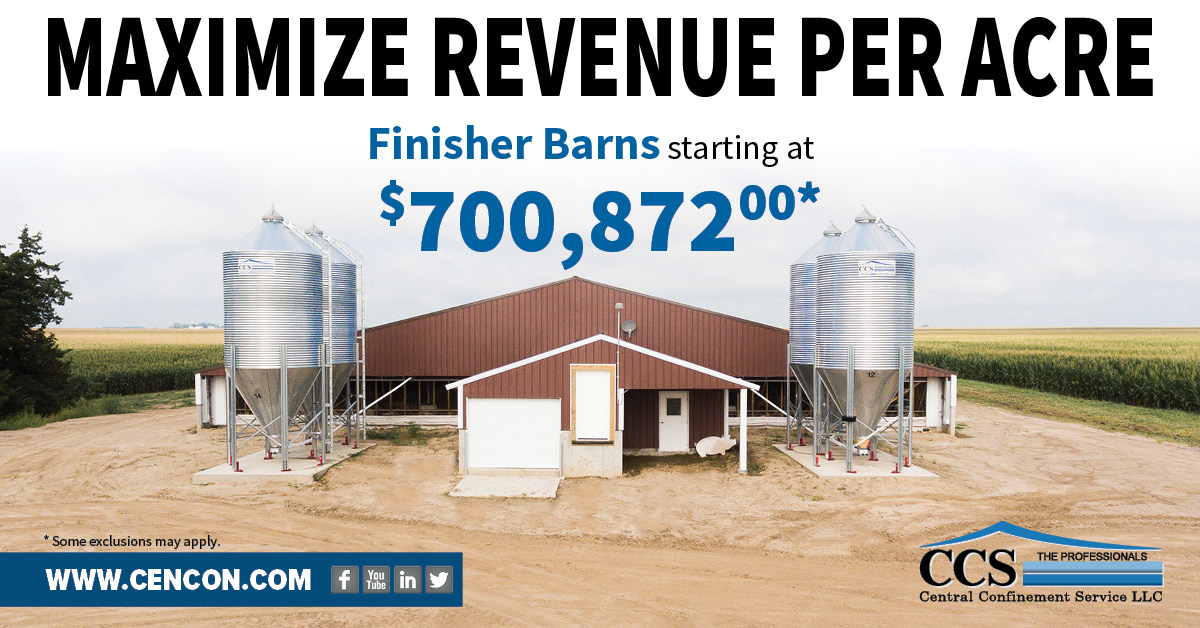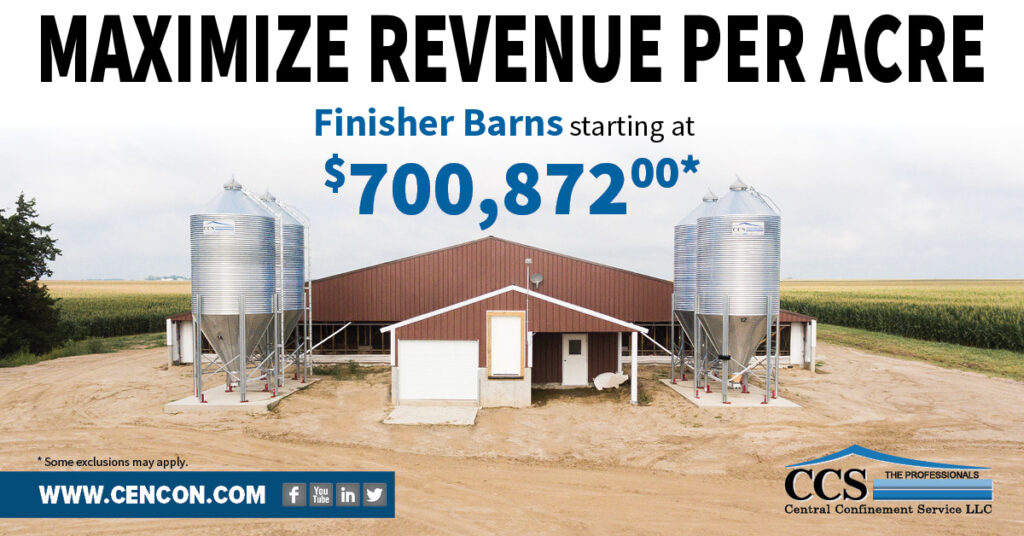 If you're interested in adding livestock housing to your farm to diversify your operation, give Central Confinement Services a call (402)563-6041
Fill Out The Contact Form and We Will Contact You Shortly!