Are you thinking about adding a hog barn into your operation? There are many reasons why you may want to make this addition. Is it because you want to:
Diversify your operation
Create more opportunities for the next generation to return back to the farm
Utilize the manure nutrients to replace commercial fertilizer
All three of these are very viable reasons to look into adding a swine barn into your operation. A hog barn can last for 30-40 years and it is a great investment opportunity to grow your farm.
You may also be wanting to maximize your revenue per acre. Property taxes are high and it's not a small burden to pay all the property taxes on your acres. With a hog facility, you can maximize your revenue per acre!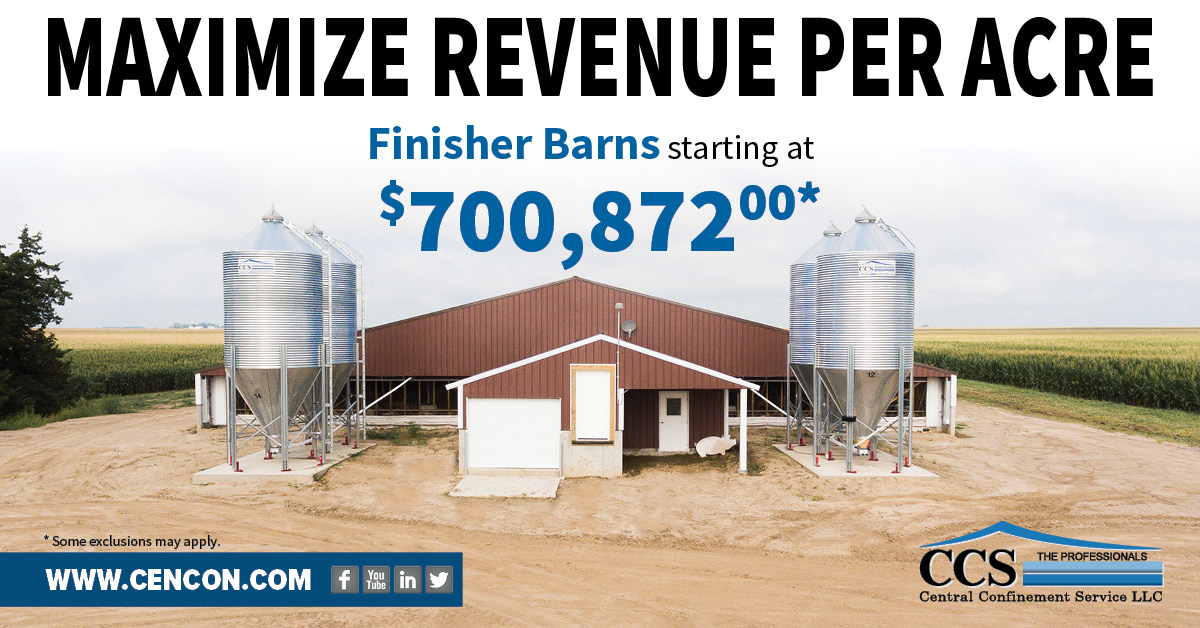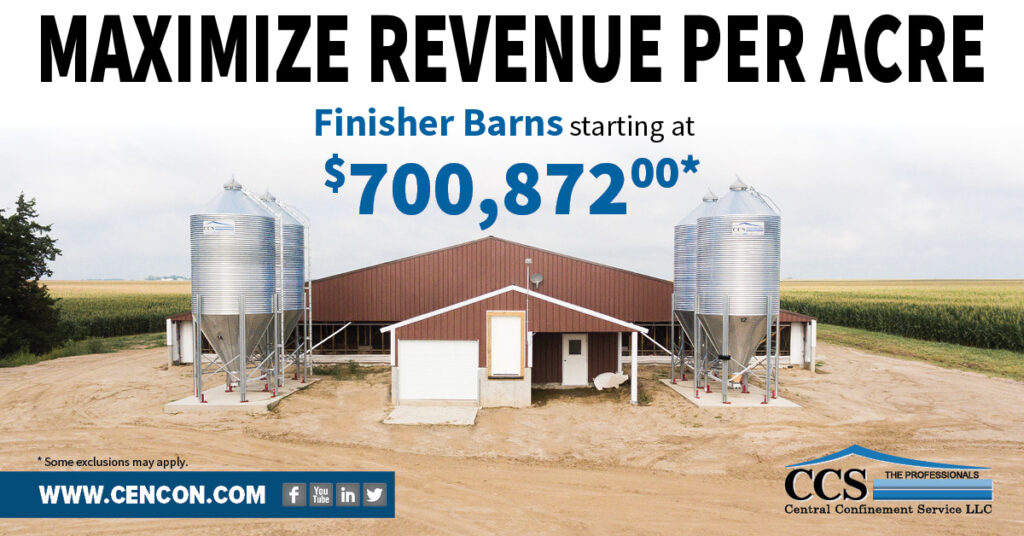 With CCS, you can build a Finisher Barn starting at $700,872 for a 2400 head hog facility.
CCS will handle:

Permitting
Manure Management Planning
Design
Complete Turnkey Housing & Equipment
Construction Management
Maintenance Service
Diversify your operation and increase your revenue per acre by adding a finisher barn. Contract finished barns are a great way to bring the next generation back to the farm, utilize fertilizer cost savings, and take advantage of tax benefits.
With more than 35 years of experience in quality construction and custom-built equipment, CCS carries the reputation as the highest quality builder of turnkey swine, dairy, beef, poultry and commercial construction in the U.S. and Canada.
Have You Raised Hogs Before?
Many people have built hog facilities with out much experience of raising the species. The swine industry is integrated and you can learn a lot from livestock integrators on how to raise the hogs, manage your barns, and manage employees.
Whether you are implementing a large-scale swine production system, adding a hog confinement building or remodeling a building, the team at Central Confinement Service will assist you in reaching your production goals.
Let our professionals work with you to develop a system that will maximize your investment and multiply your returns. The needs of swine producers are always evolving, and so is our facility design. We know what worked yesterday may not satisfy your specific facility requirements today. So, we begin each project by listening to your requirements. Then, we start with a clean sheet of paper and design each project from the ground up. We approach each project with your goals in mind to give you the greatest quality and value for your money. From that starting point, we develop a facility using our keys to success formula:
Our Hog Barns Are:
Designed to maximize animal comfort and productivity.
Designed to provide a safe, comfortable and efficient environment for workers.
Exceptionally durable and easy to maintain.
All of us are conditioned to believe that price is the most important part of a project. We learned early on that price and cost are two entirely separate items. The price of the project is simply the dollars spent on the original project. The true cost, on the other hand, is the original price of the facility plus the additional cost in maintenance, labor and lost—or gained—production over the life of a facility.
We Understand…
Our team at Central Confinement Service understands the relationship of price to cost and will do all we can to ensure the swine facilities you build today are designed to maximize quality and minimize overall cost over their operational lifetime.
We work with multiple equipment vendors, and can also create custom equipment and parts in our own manufacturing facility. This ensures that the equipment we install precisely matches your requirements
We offer both turnkey designs and the ability to create facility design completely customized to meet your requirements.
Swine Consulting Services – Building Your Hog Barn
We can help take the bumps out of the road in the project development and operation of your swine production facility. In today's complex world, nothing is ever as simple as it seems. Our years of experience can help guide you through the steps necessary to ensure a successful project.
From concept through post-construction, we will walk you through the process, with the final result being the best value in hog production facilities available today.
Our Hog Barn Services Include:
Complete swine housing and equipment systems
Swine barn additions
Swine barn remodels
Construction of every type of swine facility—gestation, farrowing, nursery and finishing
Hog Barn Pre-Project Planning:
Budgeting
Site Selection Analysis
Facility Design
Permit Consulting
Included in All Our Projects:
Complete Turn-Key Construction
Construction Management Service
Project Scheduling
Post-Construction Service
Warranty Service
Scheduled Maintenance Service
To explore how our services can turn your concept into a reality, just give us a call at 800-443-8305 or fill out our contact page.